We accept payment by PayPal: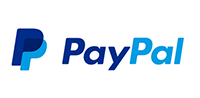 Your PayPal will not be charged until your order has shipped.
1. Choose your shipping address or create a new one.
2. Select PayPal payment
3. Click on "make payment"and your payment will be processed

Possible reasons for payment failure may be:
1. Incorrect or incomplete PayPal information
2. Insufficient funds or account balance
3. The authorized or default online transaction limit is too low
4. Technical problems with the payment system

We recommend that you:
1. Double check your PayPal information to ensure it is correct
2. Contant PayPal service provider to enable appropriate features or for more information to obtain.